Parent Involvement Opportunities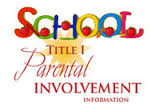 North Douglas Elementary
Title 1 Parent Meeting Dates
School Year 2017-2018
If you would like to serve on the Parent Advisory Council or would like more information regarding our various resources and parent workshops, please contact our ILT and Parent and Family Engagement Facilitator, Ms. Hilton at (770) 651-4833; email her at carmilla.hilton@douglas.k12.ga.us; or make an appointment to visit her in the Parent and Family Engagement Resource Center. The faculty, staff, and administrators at North Douglas look forward to working with your family this year!
The Parent and Family Engagement Center Hours
(PRC - Parent Resource Center located adjacent to the Media Center)
Monday and Friday 8:00-11:30am
1:30-3:15 pm
Tuesday-Thurday 7:15-8:00 am
2:30-3:15
Tuesday Extended hours 3:15-6:00pm
Title I Meetings for 2017-2018
Title 1 Annual Meeting Aug. 22 6:30-7:30pm
Curriculum Night 7:30-8:00pm
This meeting is to inform our families about Title 1 and its status. Parents will learn the educational process, classroom expectations and Georgia Standards of Excellence.
Reading / Technology Night Sept. 12 9:00-10:00am
Homework Tips 6:30-7:30pm
Parents will learn strategies that can be used at home to help their children with reading and homework.
PAC Meeting Sept. 26 9:00-10:00am and 3:15-4:15pm
The purpose of this meeting is to discuss any information about the school and its success.
Science (STEM) Oct. 17 6:30-7:30pm
The purpose of this meeting is to discuss and demonstrate Science, Technology, Engineering and Mathematics.
Lights On Afterschool Oct 26 5:00-6:00
This event is show the importance of after-school programs.
Reading in the Park Oct. 31 Lunch Time 10:30am-1:00pm
The parents are invited to read and have lunch with their child in the school courtyard/park. The purpose of this activity is to show the importance of reading.
Math Night (Hands On) Nov. 14 6:30-7:30pm
The parents and students are invited to learn different ways of doing math with manipulatives.
PD- Building Self Esteem Nov. 8 7:45-2:25
Engagement Month-Nov. 13-30 9:00-2:00
The parents are invited to come out to broadcast on the news and read books to the classroom.
PAC Meeting Jan 9 5:00-6:00pm
The purpose of this meeting is for parent input on policies for the school. (Compacts and LEA)
PD- Routines/Time Blocking Jan 24 7:45-2:25
Staff and Parents will look at ways to organized and create a schedule to assist with home and school.
GMAS/Social Studies Feb 28 8:30-9:30 and 1:00-2:00
Parents and students will gain an understanding of the expectations of the different levels for the Georgia Milestones. They will be equip with strategies to assist at school and home.
PAC Meeting April 24 9:00-10:00am
3:15-4:15pm
The purpose of this meeting is to discuss parent survey results.
Kindergarten/6th Grade Transition May 10 8:30am-2:00pm
3:30-6:30pm
The purpose of this meeting is to inform parents of Kindergarten information and Pre-K Tours will take place for upcoming kindergarteners.
6th Grade OrientationTBA
Parents will be given information to prepare for the 6th grade Middle School Orientation Meeting.