Parent Involvement Opportunities
North Douglas Elementary
2016-2017 Parent Involvement Calendar
_______________________________________________________________________________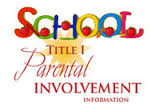 Sneek-A-Peek
August 4th @ 6:00pm
National Grandparent's Day
September 9th during lunches
Open House
September 15th @ 8:30am
Title I Professional Development for Staff
September 15th - (Open House) The Basics of Parent Engagement
October 13th - (Planning) Homework: Including Parents in the Process
Title I Annual Parent Meeting
September 15th @ 6:30pm
During this meeting parents are informed about the school's Title I program and their rights to be involved. Parents will get to meet staff and teachers, visit the Parent Resource Center, and get a better understanding of what it means to be a Title I school.
The Parent Advisory Council (PAC) is made up of a parent representative from each grade level, the principal, two teachers, our instructional lead teacher and the parent outreach facilitator. The PAC meets at least three times a year and gives input and direction for the Title I program including the school compact, the school policy for parent involvement, and the parent workshops. ALL parents at North Douglas Elementary are invited and encouraged to attend and participate in all PAC meetings. The meetings will be advertised on the school website, on signage, and through flyers. The dates for the PAC meetings for 2016-2017 are listed below. Please note that dates and times are subject to change.
Parent Advisory Council (P.A.C) Meetings
September 13 @ 6:30pm
January 10 @ 3:30pm
May 9 @ 8:30am
Go for the Goal Curriculum Night
November 17 @ 6:30pm
Teachers will familiarize parents with the programs that they will be using to teach students such as Lucy Calkins Writing and Eureka Math. In addition reading and homework strategies will be provided.
Spooktacular Science Night
October 20 @ 6:30pm
Families are invited out for tricks, treats, and fun science activities and experiments. Costumes are welcome. Special Guest Mr. Michael Green from Science for Everyone.
Thanksgiving Lunch w/ Homework Strategy Information
November 16th & 17th (During the day)
National Parental Involvement Day
November 19
Read Across America
March 2 (All Day)
Test Preparation and Strategies
February 9, 2016
Families will learn about the Georgia Milestones Assessment System (GMAS), test preparation skills, and study strategies for all grade levels.
Using Technology Wisely Night
March 14 @ 6:30pm
Special Guest, Darien Carruth, Douglas County Instructional Technology Specialist, will help parents better understand how to use technology at home in conjunction with what their children are learning in school.
Summer Reading & Talent Show
April 11 @ 6:30pm
Kindergarten Transition
April 2017
Race to Summer Learning Success
May 4, 2017 @ 6:30pm
Families will receive information about:
- Summer Review Packets
- Summer Library Reading Program
- Summer Enrichment programs from Recreation Dept.
- Summer Safety information from the Police Dept.
- Summer Food Program
- Summer Writing Prompts
- Educational Learning Websites
- Summer Workbooks
Fifth Grade Transition
May 11, 2017 @ 6pm
If you would like to serve on the Parent Advisory Council or would like more information regarding our various resources and parent workshops, please contact our ILT and Parent Outreach Facilitator, Ms. McClary at (770) 651-4855; email her at Schontal.Mcclary@douglas.k12.ga.us; or make an appointment to visit her in the Parent Resource Center. The faculty, staff, and administrators at North Douglas look forward to working with your family this year!